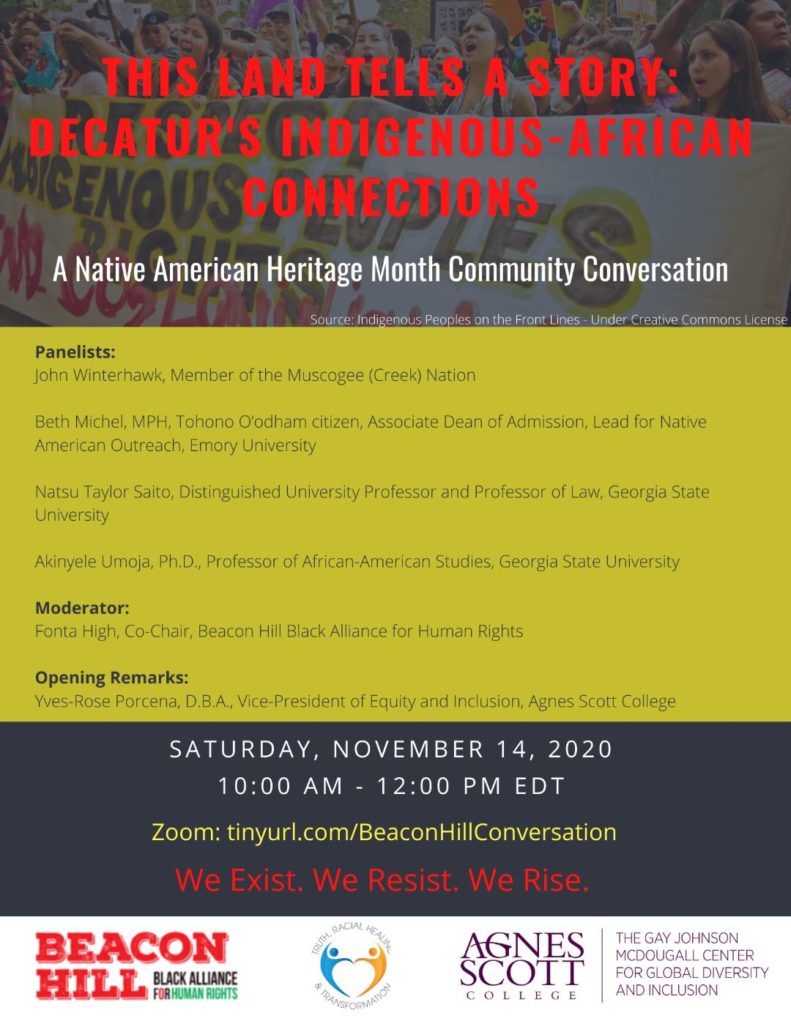 Agnes Scott College's Truth, Racial Healing and Transformation Campus Center and the Gay Johnson McDougall Center for Global Diversity and Inclusion are proud to collaborate with Emory University, Georgia State University, and Beacon Hill Black Alliance for Human Rights on this Native American Heritage Month community conversation to be held tomorrow, Saturday, November 14th at 10:00 a.m.
The event titled "This Land Tells A Story: Decatur's Indigenous African Connection" will feature Beth Michel, MPH, Tohono O'odham citizen, Associate Dean of Admission and Lead for Native American Outreach at Emory University; Natsu Taylor Saito, Distinguished University Professor and Professor of Law at Georgia State University; John Winterhawk, Member of the Muscogee (Creek) Nation; and Akinyele Umoja, Ph.D., Professor ofAfrican-American Studies at Georgia State University. It will be moderated by Fonta High, Co-Chair of Beacon Hill Black Alliance for Human Rights. Yves-Rose Porcena, Vice-President for Equity and Inclusion at Agnes Scott College will deliver the opening remarks.
To attend, please go to Beacon Hill Conversation.