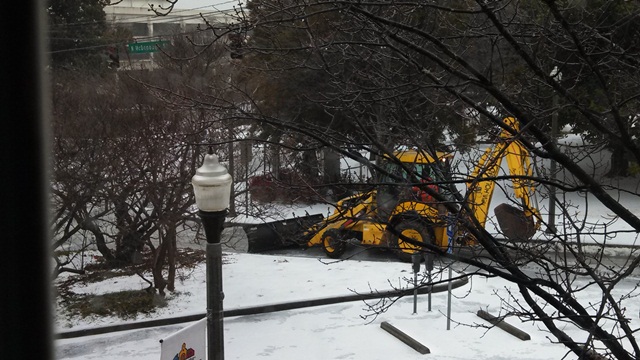 Thank you to everyone in the community for staying off the roads last night and today. It continues to be fairly quiet in the city, and most city offices are closed. Winter storm and ice storm warnings are still in place across Georgia today through Thursday morning, and more precipitation is expected to fall tonight.
Remember, if the power goes out or you see a tree or other object fall on power lines, contact Georgia Power at 1-888-891-0938. Continue to charge medical devices, phones and other electronics so you are ready in case there is a power outage.
Staff members from the City's Public Works department are out clearing city sidewalks of slush, and the tractor (pictured above) is busy clearing streets. Please do your part by clearing the sidewalk in front of your home or business.
As always, call the police non-emergency number (404-373-6551) if you require assistance or 911 for life-threatening emergencies.
If there is a loss of power, the city may use the CodeRED Emergency Notification System to communicate with the community. Please take this opportunity before a power outage occurs to register your phone number here.
About CodeRED:
CodeRED Emergency Notification System is a telephone communication service that allows us to quickly notify citizens of emergency situations requiring immediate action.
All residential phone numbers in the BellSouth/AT&T system should be in the telephone database. All city of Decatur businesses should register, as well as individuals who have unlisted phone numbers, who have changed their phone number or address within the last year, and who use a cellular phone as their primary home phone.
The system can dial up to 50,000 phone numbers per hour and deliver a recorded message to individuals or their answering machines.