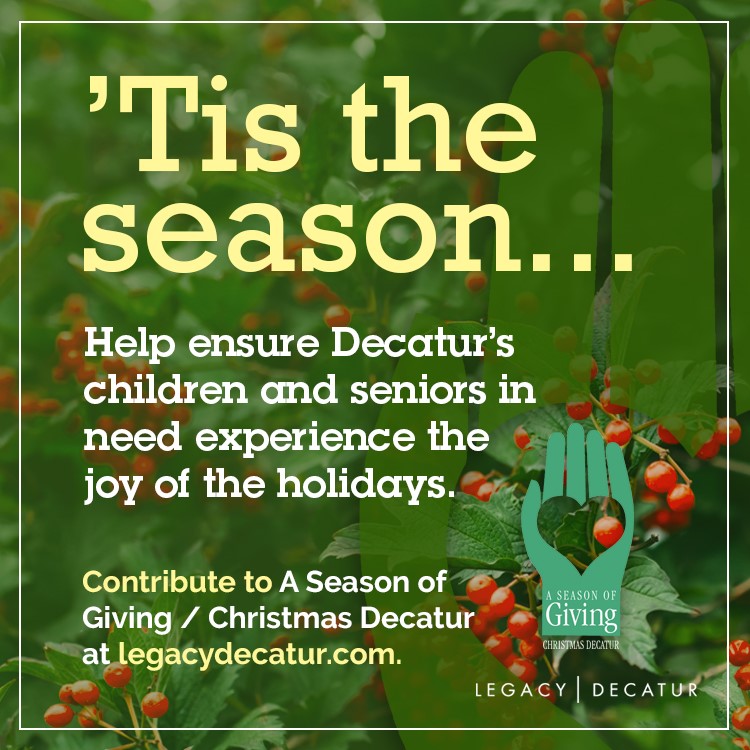 There is still time to make the holiday season brighter for children and senior citizens in Decatur by participating in A Season of Giving/Christmas Decatur. This year, more than ever, your assistance is needed to help provide holiday gifts. For this year only, due to the COVID-19 pandemic, we will have virtual giving. Donors are asked to provide monetary donations, rather than purchasing gifts.
Traditionally, donors have spent $100 to $150 on gifts for a specific person. Your assistance in any amount will help us to purchase gift cards so parents may purchase winter coats and other necessities. You can also help provide actual gifts for our older residents by making a donation that will be used to order gifts that will be sent directly to the older resident. We are striving to make this a safe program this year for parents, children, donors, volunteers, and older residents.
Go to legacydecatur.com/give and designate your donation to A Season of Giving/Christmas Decatur. Legacy Decatur is a 501 (c) (3) registered charity. For additional information, email aseasonofgiving@decaturga.com or call 404-378-8068.