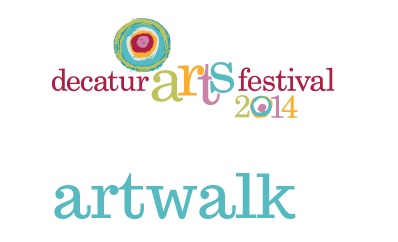 Friday, May 23 • 5-10 p.m.
All around Decatur • Free and open to the public
1. 24 amazing Decatur shops and restaurants are staying open late to host they city's largest single-night art experience. See the full list here.
2. Three Oakhurst businesses are taking part in the ArtWalk this year. Head over to Kavarna, Mojo Pizza N'Pub, and Steinbeck's for a pizza, a pint and some paintings.
3. Worthmore Jewelers is celebrating its six-year anniversary with a cook-in featuring live music, cold drinks, and fine arts. Featured artists include Hallie Edwards and Big Gully.
4. Wild Oats and Billy Goats is celebrating its four-year anniversary with four artist demonstrations by Bailey Jack, Kathleen Taylor, Sandy Erickson-Wright, and Jennifer Friedman.
5. Boogaloos is hosting a trunk show for local jewelry designer Olivia Rae, plus you can get 20% off all full price merchandise Friday evening and 20% off all Olivia Rae jewelry Friday thru Monday.
6. Little Shop of Stories is holding its second annual Silent Art Auction – auctioning off over half a dozen different original works of art. Items include prints by Tomie dePaola, Robin Preiss Glasser, Dan Santat, and Cece Bell. 100% of the funds raised will benefit the On The Same Page program.
7. Trinity Mercantile & Design will be featuring works of three artists, Cynthia Perryman, Jeff Henry, and Shelley Rogers, and serving small bites and bubbles all night!