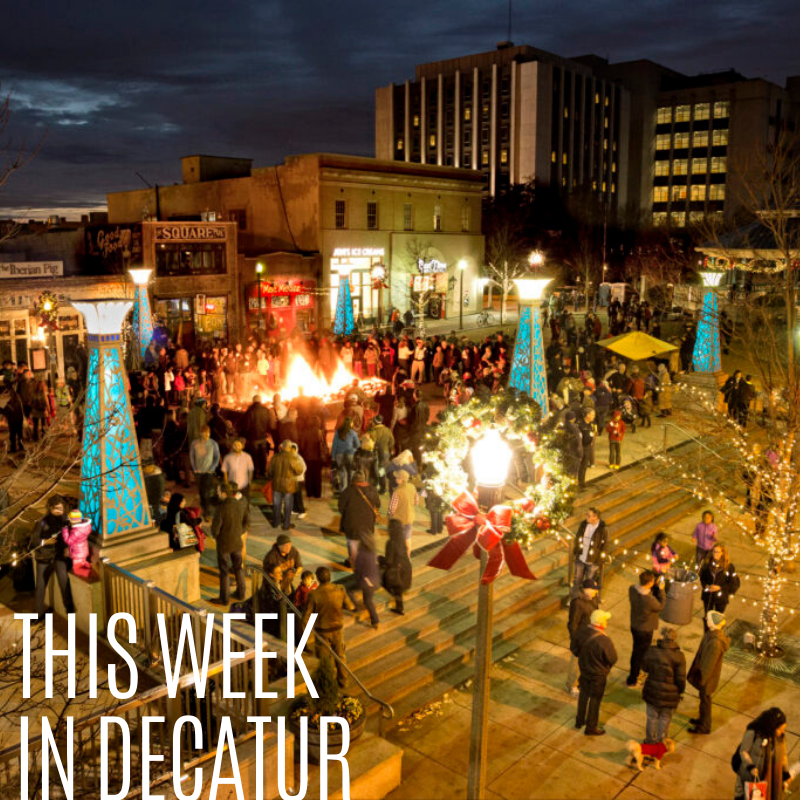 City Meetings
-Decatur Development Authorities | Friday, December 13 @ 8 a.m.
Events
-Core Dance is hosting their holiday gathering and salon this Thursday, December 12 from 6:30-8:30 p.m. at Core Studios. This event is free, but registration is required. For more information and to register, visit donate.coredance.org.
-Roast a marshmallow (or two) around a roaring bonfire this Terrific Thursday, Dec. 12 from 7-8 p.m. on the Square. Register for this free event at freshtix.com so we have plenty of marshmallows for everyone!
-Antlers and Wings will kick off their Shamanic Journey Group on Thursday, Dec. 12 at 7 p.m. Visit antlersnwings.com for more information.
-Don't miss the 28th Annual Decatur Holiday Marketplace and Café this Friday, Dec. 13 from 5:30-9:30 p.m. at Clairemont Elementary School. For more information, visit decaturholidaymarketplace.com.
-Stop by Kelly's Market on Friday, Dec. 13 between 6-8 p.m. for a Oil & Spice Tasting with Splash of Olive.
-Join Antlers and Wings for their Women's Circle and Gift Sharing on Friday, Dec. 13 at 7 p.m. To learn more, visit antlersnwings.com.
-There will be an open house at the Bradley Observatory on the campus of Agnes Scott College this Friday, Dec. 13 at 8 p.m. featuring a lecture by Chris DePree, Charles A. Dana Professor of Astronomy and Director of Bradley Observatory.