For those of you wondering when the sheep in Decatur Cemetery will arrive, good news: the sheep are here! They should be at the cemetery for the next 7 – 10 days, depending on how quickly they eat. (The rule of thumb is 100 sheep can clear one acre in one week.) The community is welcome to come see the sheep and their guardian dogs anytime the Cemetery is open.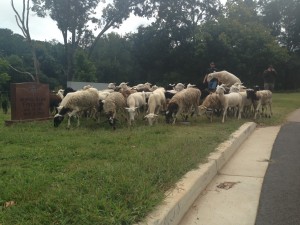 More photos on Facebook
Additional information about using sheep to control invasive plant species can be found at the Trees Atlanta and Ewe-niversally Green websites.