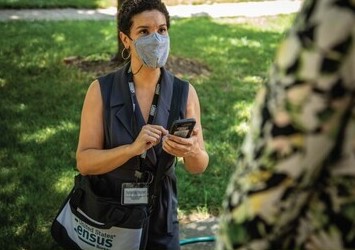 If you have not responded to the 2020 Census yet, you may receive a visit from a Census taker. Here's how to identify a Census taker:
Time of Day – Census takers will begin home visits on August 11th between 9 a.m. and 9 p.m.
ID Badge – Ask for official Census Bureau Identification
Vehicle Identification – An "Official Business" notice will be placed on the vehicle
Smart Device – Census takers will carry an iPhone to record information
Laptop Bag – Census takers will carry a laptop bag to hold necessary materials
Wear a Mask – Census takers are required to wear a mask and maintain 6 feet social distancing
An official Census taker will never ask for: your Social Security number, bank account of credit card numbers, anything on behalf of a political party or for money or donation.
If you would like to avoid an in-person visit, take the Census by phone at 844-330-2020 or online.