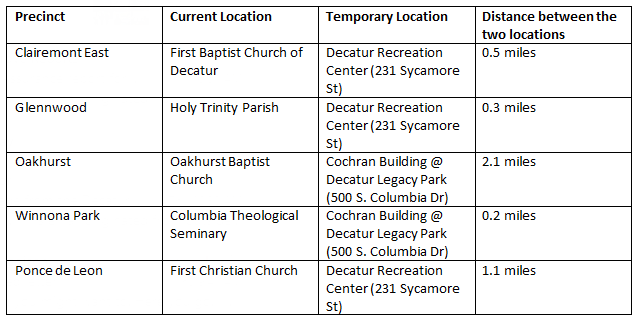 Five of the 7 polling locations in the City of Decatur are unavailable for the June 9th Primary Election. If you plan to vote in person on Primary Election Day, please review the temporary locations.
The Clairemont West and Decatur polling locations have not changed. Voters will still go to the Church at Decatur Heights (Clairemont West) or Evergreen Baptist Church (Decatur) to cast their ballots.
To confirm your poll's location, check out the My Voter Page on the Georgia Secretary of State's website at https://mvp.sos.ga.gov/MVP/mvp.do
If you have questions, contact DeKalb County Voter Registration and Elections at voterreg@dekalbcountyga.gov or 404-298-4020.