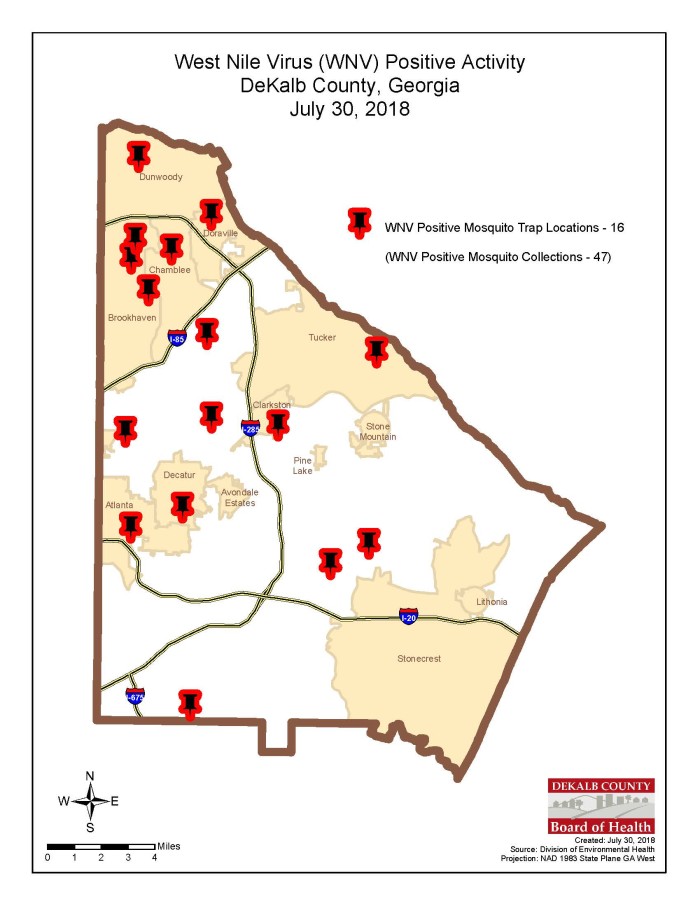 A message from the DeKalb County Board of Health:
The West Nile virus (WNV) season had an aggressive start this year. There is a lot of virus in the mosquito population at this time. While there has not been in any human cases of WNV in DeKalb County; August, September and October are the months when most cases are reported. Take precautions, including using repellent, particularly at dawn and dusk when these mosquitoes feed.
Also remember to check around your property and eliminate any standing water that could last for five or more days.  There is a checklist on the DeKalb Board of Health website that can assist you in locating mosquito breeding sites around your yard or business. The mosquito species in our area do not travel far. Therefore, if you have mosquitoes in your yard, they are probably breeding there. Eliminating breeding sites will help minimize the mosquito population.
DeKalb County's 2018 season WNV positive activity total now consists of no human cases of WNV infection and 47 WNV positive mosquito collections from 16 WNV positive mosquito trap locations.
For more information, visit www.dekalbhealth.net/envhealth/west-nile-virus/ or call (404) 508-7900.
Arbovirus Program Update Highlighting Program ActivityHuman Arboviral Disease Surveillance:
West Nile Virus (WNV):

No cases* of WNV in DeKalb County residents
No cases* of WNV in Georgia
1 WNV presumptive viremic blood donor in a Georgia resident (blood donation tested positive for WNV but donor did not develop symptoms)
39 WNV cases* in CDC National Report including 10 in California and 10 in Louisiana
Zika Virus:

No cases* of Zika virus in DeKalb County
No cases* of Zika virus in Georgia
28 cases* in US states reported in CDC Report (28 in travelers returning from affected areas, no sexually transmitted and no local mosquito-borne transmission)
Mosquito Surveillance:
47 WNV positive mosquito collections
16 WNV positive mosquito trap locations
No Zika positive mosquito collections
35 mosquito trap locations sampled in DeKalb County
250 collections of mosquitoes submitted for arbovirus testing
91 mosquito trap nights
6,892 mosquitoes counted and identified
Mosquito Control Efforts:
253 calls requesting mosquito control assistance received and visited
3001 homes visited in door-to-door educational efforts
Over 4,800 storm drains and other mosquito breeding sites larvicided
Detailed assessments where surveillance has indicated increased risk for virus activity
Additional Arbovirus Activity in Georgia:
1 case of internationally-acquired dengue (DeKalb County)
1 case of internationally-acquired chikungunya (Walton County)