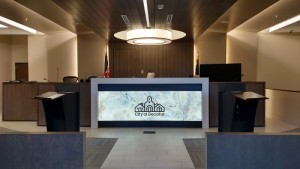 The City of Decatur Municipal Court announces a 2017 Amnesty Program. The program, which begins February 1, 2017, and goes through May 1, 2017, offers amnesty to individuals to resolve past-due traffic citations and active bench warrants for failure to appear in court. It is important to note that a failure to appear in court may result in a driver's license suspension.  The goal and purpose of the Amnesty Program is to help restore as many drivers as possible to legal status to drive on Georgia roadways and to avoid more harm to their driving history with additional charges and fines. Amnesty will save drivers money as well because warrant and other fees, if any, will be waived.
Individuals with outstanding violations may walk in to the Decatur Municipal Court Monday through Friday from 8:00 a.m. to 4:30 p.m. and for individuals unable to come to the court during the week, every other Saturday, specifically February 11 and 25, March 11 and 25 and April 8 and 22 from 9:00 a.m. to 1:00.  Additionally, on Saturday, March 25, 2017 at 9:00 a.m., a full court session is scheduled for individuals with outstanding violations and warrants to resolve their outstanding violations without facing any additional charges or costs. Any person with a failure to appear warrant who pays the fine to resolve the original citation violation will receive documentation to submit to the Department of Drivers Services to have their driver's license reinstated, if suspended.
Also if the original violation such as DUI, suspended driver's license or no insurance requires a mandatory court appearance, individuals should appear on Amnesty Saturday, March 25, 2017 at 9:00 a.m. as well.
The court encourages anyone who believes they may have an outstanding matter in the City of Decatur Municipal Court to take advantage of the Amnesty Program.  The City of Decatur Municipal Court is located at 420 W. Trinity Place, Decatur, GA, 30030. Contact us at 678-553-6655 or visit the city's website at https://www.decaturga.com/city-government/city-departments/municipal-court/2016-amnesty-program for more information.