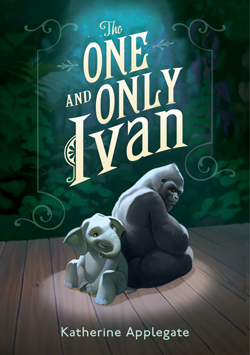 On the Same Page is a city-wide reading initiative whose goal is to foster a community of readers by bringing families together around the same book.  It is coordinated by Little Shop of Stories working in conjunction with the AJC Decatur Book Festival, the Decatur Education Foundation and the Decatur Rotary Club.
Each year On the Same Page selects a book for local children and their families to read and unveils the choice at the AJC Decatur Book Festival.  The 2016 book is The One and Only Ivan by Katherine Applegate.  The book is a Newbury winner and a #1 New York Times bestseller and is inspired by the true story of a captive gorilla named Ivan.  Having spent 27 years in a shopping mall, Ivan has grown accustomed to his life and hardly ever thinks about his past in the jungle.  Ivan occupies himself with television, painting, and his friends Stella (an elephant) and Bob (a dog).  But then he meets Ruby, a baby elephant taken from the wild, and he is forced to see their home and his art through new eyes.
Families are encouraged to read the book and Little Shop has organized a variety of special events throughout the fall culminating in a visit from the author in November.  In addition, the One and Only Ivan will take the stage at Synchronicity Theatre in February for a special stage adaptation by James E. Grote where Ivan and his friends will leap off the page and onto the stage.
Special events include a Writing Workshop (Sept. 18), a NightCrawler Overnight at Zoo Atlanta (Sept. 24-25), an On the Same Page Day at Zoo Atlanta (Oct. 9), the On the Same Page Book Club (Oct. 14), a Synchronicity Acting Workshop (Oct. 15), The One and Only Ivan Party (Oct. 20), Volunteer Day at the Zoo (Oct. 22), Decatur Day of Reading (Oct. 24), and the celebration with the author (Nov. 11).
For details about specific events, how to register, and information about On the Same Page and Little Shop of Stories click here.