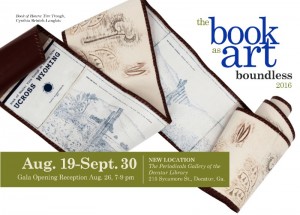 The Possibilities Are Boundless
Opening Reception
Friday, August 26 | 7-9 pm
Book Festival
Extended Hours
Saturday, Sept. 3 | 9 am-6 pm
Sunday, Sept. 4 | Noon-5 pm
White Glove Nights
Thursday, Sept. 15 and
Sept. 29 | 7-9 pm
Bookmaking for Kids
Thursday, Sept. 22
4-5:30 pm
Artist books take many forms – from handmade and lusciously tactile to linear and informative, abstract and questioning to sculptural and monumental. This juried show celebrates the book with a wildly varied collection of inventive and spectacular work that challenges expectations.
This year is the fourth edition of the artists' book exhibition and we have a new location — the Periodicals Gallery of the Decatur Library!
Get a sneak peek of the collection at bookasart.com.