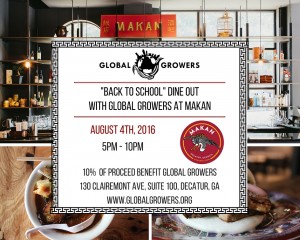 Who says the first week of school can't be delicious? 
Global Growers and Makan are joining forces this Thursday to beat the back-to-school blues of bedtimes, homework, and packed lunches. The talented chefs at Makan will work their magic on Global Grower's fresh produce and we will have a unique one-night-only special menu in addition to their full menu.
No tickets needed. This is an open event at Makan, and 10% of proceeds will benefit Global Growers.
We would appreciate it if you could share the event info (see attachment and links) among your networks. And of course we would love for you to join us for an incredible mix of Chines and Korean inspired food using locally grown produce from GG.
When: Thursday, August 4th, 2016: Drop in anytime between 5pm – 10pm
Where: Makan
Who: Global Growers and Makan
Why: Let's Celebrate Back-to-School Together!