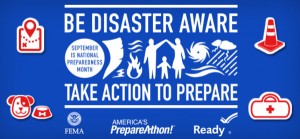 According to a 2014 national survey conducted by the Department of Homeland Security's Federal Emergency Management Agency (FEMA), fifty percent of Americans have not discussed or developed an emergency plan for family members about where to go and what to do in the event of a local disasters.
When it comes to planning for emergencies, it is extremely important to make sure that everyone around you is prepared—including all members of the family, especially children. Although some adults find disaster readiness a difficult topic to discuss with youth and children, it is essential that preparedness information be presented in a direct, honest manner. Discussing a possible disaster as a family, creating a plan and practicing this plan can help youth and children emotionally and mentally prepare for an emergency.
It is important to have several plans in place to respond to different types of emergencies, and to make certain that children are familiar with each plan. Key elements of any school or home emergency plan should include: what to do, where to meet, who to call and how to communicate. For more information on how to get prepared, check out www.ready.gov/september.