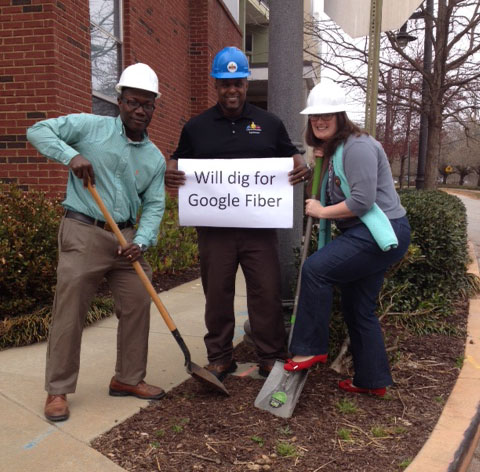 Thank you to everyone who has tweeted about wanting Google Fiber in Decatur. We love how excited everyone is!
While we'll be working closely with Google over the next few months to see if Decatur/metro Atlanta is a good fit for their fiber product, we want to continue to show them how much we want Google Fiber in our community. We've created a Google+ City of Decatur page, so make sure to +1 us if you're on Google+. Also, we want to hear from you. Send us photos, videos, drawings, etc. telling us how much you want Google Fiber in Decatur and we'll share it on the City of Decatur Google+ page. We roped in some fellow City employees to take a photo (above) as inspiration – although we know you can be more creative than us. Here are a few more for inspiration.
You can either submit your photos/video/drawings via:
We can't wait to see what you come up with!