An important message from Sgt. Jennifer S. Ross, Community Information & Education Officer for the City of Decatur Police Department: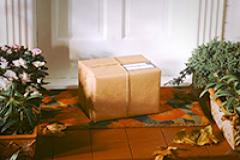 We have received several reports of package thefts from doorsteps in the past few days.
On Tuesday, 12-3rd packages were stolen from the doorsteps of two units at Talley Street Lofts. At one of the units, two packages were stolen and six were left behind with one of the six having been opened. (Delivered at approximately 2:30pm and discovered missing at 6pm)
On Thursday, 12-5th packages were stolen from the doorstep of a residence in the 200 block of Lansdowne Avenue. (Delivered at approximately 1:50pm and discovered missing at 4pm)
On Thursday, 12-5th a package was stolen from the doorstep of a unit at Talley Street Lofts, and two other packages were left behind. (Delivered at approximately 12pm and discovered missing at 7:30pm)
The stolen packages contained electronics, clothing, accessories and household items.  All of the stolen packages were delivered by UPS.
I know one of the biggest reasons many of us shop online is the convenience of having what we ordered shipped directly to us but unfortunately thieves use our timesaving efforts as a way to do a little "shopping" of their own, especially during the holiday season.  I have yet to recover the case of "Kind Bars" I ordered a few months back, in an effort to save a little money with a bulk sale price and free shipping, that sprouted feet and sent me on a personal investigation that lasted weeks and ended in me having $50.00 less than when I started and no Kind Bars.  Since parcel bandits are trying to intervene in our holiday fun, here are some tips to help prevent package thefts.
If possible, ship your packages to your work location or a location where you know someone will be there to receive the package such as the home of a friend or loved one who you know is home during the day.
Request that a signature be required to deliver the package.
Track your packages and ask a family member, friend or neighbor to look out and take the packages in when they arrive.
If you live at a location that requires passcode or keycard entry, do not let people you do not know tag-a-long behind you and enter the property.  If they are aggressive, do not confront them, call police immediately and provide a detailed description of the person, what they are wearing and where they were last seen.
If you observe people you do not recognize on a neighbor's property, pay attention and if it appears they are removing packages, call police immediately and provide the same descriptive information and also watch to see if the person goes back to a vehicle and provide a description of the vehicle and their direction of travel.
Keep an eye out in your neighborhood for vehicles that appear to be following delivery trucks and stopping at locations where the delivery trucks just made a delivery.
Also, UPS offers an option to schedule your deliveries and receive an alert by voice, email or text message notifying you the day before your package will be delivered.  You can then reroute or reschedule the delivery if you need to do so.  Go to http://www.ups.com/mychoice/ to check out this option.
Another option is to have the package rerouted to a UPS Store. The store will hold the package until the consumer can go and pick it up.  Consumers can always change the delivery address on UPS.com or by calling 1-800-PICK-UPS.  Consumers can also request "signature required service" and UPS drivers will not deliver the package until they receive an adult signature.
If you are using a different shipping company, find out what options are available for a more secure delivery.  Monitor and inventory your deliveries and don't assume your packages were sent in separate shipments.  In two of the three recent cases, some packages were stolen while some were left behind.
The non-emergency number for the Decatur Police Department is 404-373-6551.
(If you see my runaway case of Kind Bars cruising the city, let me know.)