Sgt. Jennifer Ross with the Decatur Police Department shares the latest in a series of safety tips: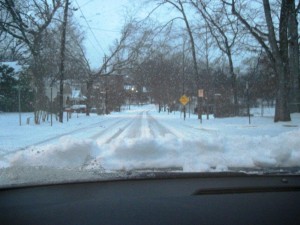 Dashing through the snow…safely
 The next topic in our Holiday Safety Series addresses driving to your destination whether it be across town for a dinner party or a much longer journey to spend time with your loved ones.  My childhood holiday travel memories are of 2-5 hours (depending on which set of grandparents we were going to see) in the back of a car, that I swear had no seatbelts, while engaged in sibling warfare over the true center line of the backseat and who was in violation.  Looking back, I do not know how my parents safely made it anywhere with my brother and I in tow.  I recall thinking my father's preparation ritual for holiday road trips was overly dramatic as it seemed like we were mobilizing for a road trip to Alaska instead of south Georgia or North Carolina.  I now understand that this was his way to keep his family safe and reduce the stress that comes with holiday travel so we could all enjoy ourselves.  Always following some basic safety tips whether driving short or long distances, investing a little bit of time to prepare for an emergency and being patient will get you where you are going safely and in better spirits.  Remember to make safety a habit and not a headache!
–          Before you start your trip, make sure your vehicle is tuned up and in good shape for travel, especially your tires (don't forget the spare).  This is even more important for winter driving conditions.  If you are weary of your vehicle's current condition and think it needs some work, rent a vehicle for a road trip.  You will be safer, less stressed and it can be a treat to have a newer, different or larger vehicle for travel.
–          Wear your seatbelt and make sure all of your passengers are wearing their seatbelt or secured in a car seat or booster seat appropriate for their size.  Unrestrained passengers are more likely to be injured and become a projectile to other passengers in a crash.
–          Keep your speed down. Give yourself plenty of time and distance to react to the traffic around you. Let impatient and aggressive drivers pass you or go ahead of you so that you control the situation.
–          If there will be drinking at your holiday get-together, choose a designated driver who will remain alcohol free, grab a cab or stay where you are.
–          Make sure you have a roadside emergency kit, you can buy a fancy one already put together or create your own.  Basic items for your kit: jumper cables, flares, extra fuses, flashlight w/extra batteries, first aid kit, tire inflator (such as a Fix-A-Flat), tire pressure gauge, basic tools (flat & Phillips head screwdriver, pliers, adjustable wrench), duct tape, blanket, bottled water and energy bars.  Make sure your cell phone is charged and that you bring your charger for the trip.
–          Be patient and stay fresh & alert when driving.  Your trip will be safer and more enjoyable if you are not in a rush and not exhausted before you even get started.  Whomever you are going to visit would rather you arrive a little later than for you to be in a crash.