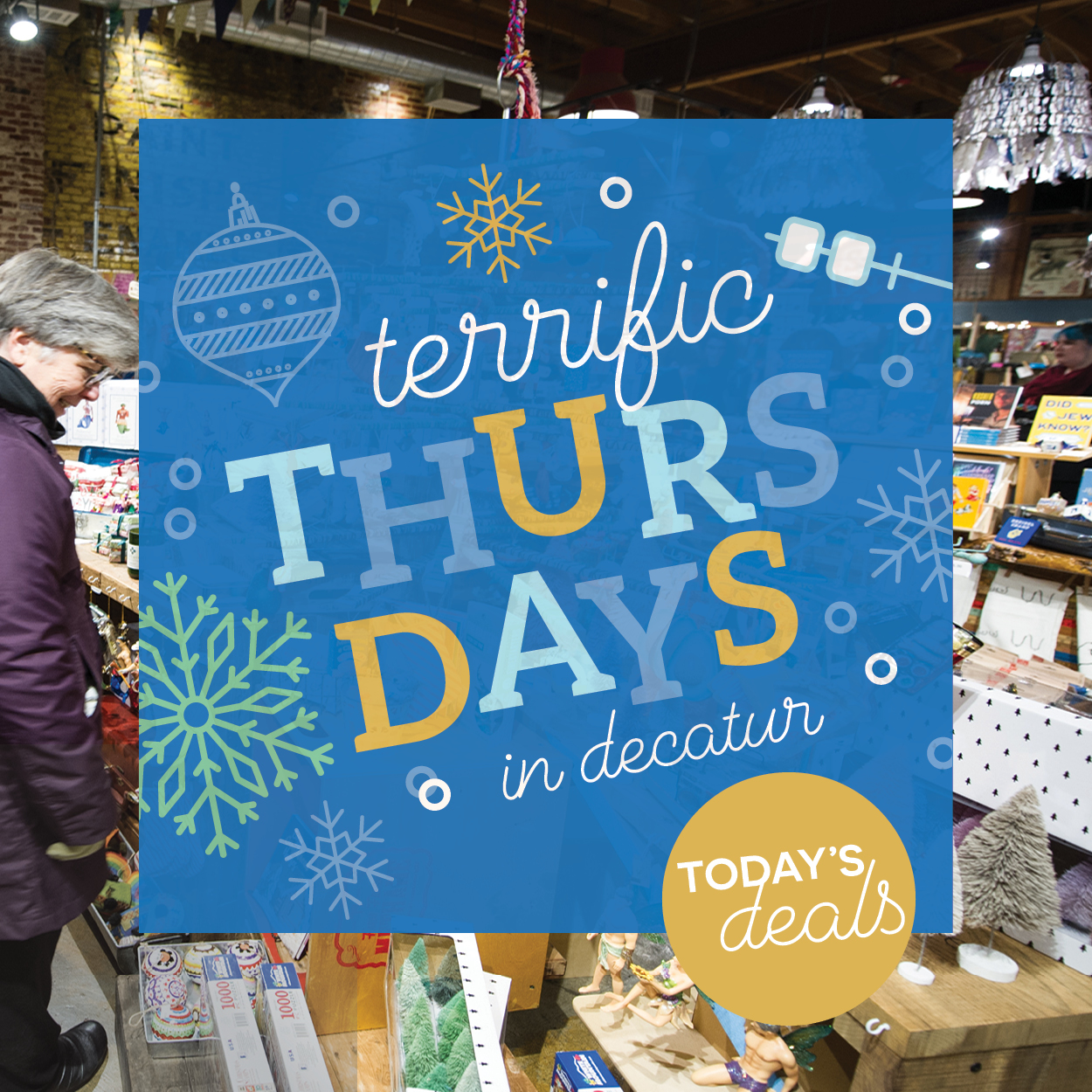 Shop merry, sip wine and indulge in decadent chocolate treats. Terrific Thursdays continue tonight with deals and discounts at 24 shops and the Holiday Wine & Chocolate Walk in participating Terrific Thursday stores from 6-9 p.m. Tickets are $10. Buy them online or on the square. 👇
✨ TONIGHT'S FEATURED DEALS: ✨
∙ Little Shop of Stories: Spend $50 and receive a $5 Little Shop gift card to use in 2020!
∙ Squash Blossom: 20% off hats and scarves + trunk show with local perfumery, OTHUS
∙ Homegrown: Buy Three Get One Free on bath bombs, stickers, key rings, magnets, and food items
∙ Kelly's Market: Buy One Get One Free on an array of chocolate items
∙ Trinity: 50% off pillows
∙ Wild Oats and Billy Goats: 10% to 25% off select art and jewelry
∙ Aimee Jewelry and Fine Art Gallery: Sale on pearl rings and sterling silver butterfly wings jewelry collection
Look for more deals in our 24 participating stores. See the full list here: decaturga.com/terrific-thursdays.
---
🍷🍫🎟 Holiday Wine & Chocolate Walk:🍷🍫🎟
Nov. 14 • 6-9 p.m.∙ Downtown Decatur • Inside most of our 24 Terrific Thursdays participating shops including:
· Aimee Gallery
· Antlers & Wings
· Boutique Karma
· Float Atlanta
· Found Co.
· Green's Fine Foods
· HomeGrown
· Kelly's Market
· Kismet Fine Jewelry
· Little Shop of Stories (They'll have cider too!)
· Olive Branch Wellness
· Sq/Ft
· Squash Blossom
· Tres Jolie Boutique
· Trinity Mercantile & Design
· Vivid Boutique
· Wild Oats & Billy Goats
· Pure Barre
Tickets are $10. Get yours now at https://www.freshtix.com/events/wine–chocolate-walk Or buy them on the square at 6 p.m.
✨BONUS Alert: Get a coupon for $1 off the 2019 City of Decatur ornament, and register to win one of several $50 gift cards from local restaurants or shops.
---
🚗 🚌 Rides on Us! 🚗 🚌
Enter today's promo code, TERRIFIC14, in the Lyft app, and we'll pay $10 toward your trip, 5-11 pm, to or from Downtown Decatur. Limited to the first 50 participants. Full details on the app.
And while you're here, we've partnered with Let's Ride Atlanta to whisk you between Decatur shopping hot spots in a mini electric shuttle. Free!