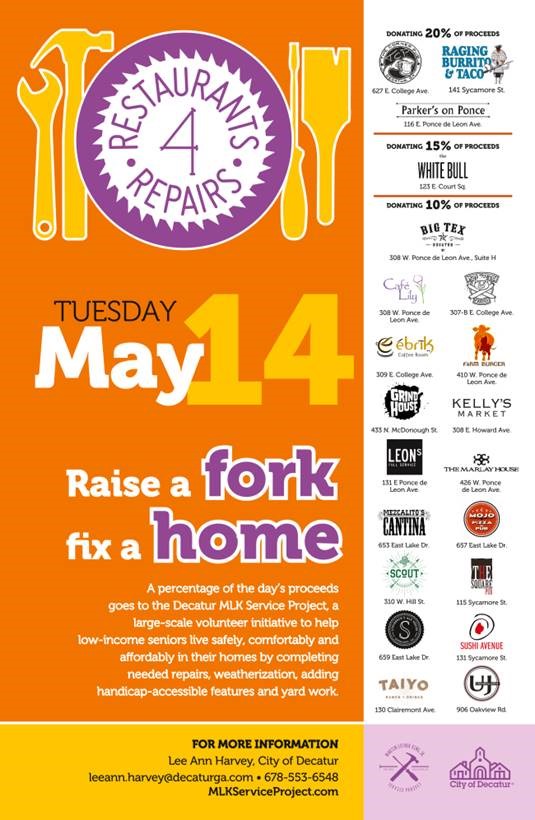 Raise a fork, fix a home. Dine out on Tuesday, May 14 at any of the 21 participating City of Decatur restaurants. A percentage of the day's proceeds at each restaurant goes to the Decatur Martin Luther King Jr. Service Project, a large-scale volunteer initiative to help Decatur's older residents live safely, comfortably and affordably in their homes by completing needed repairs, weatherization, adding handicap-accessible features and doing yard work. A total of 40 homes had work done by approximately 1,100 volunteers during the King Holiday weekend in January.
Participating restaurants are:
The Corner Pub
Raging Burrito & Taco
Parker's on Ponce
The White Bull
Big Tex
Café Lily
Dog Towne Franks
Ebrik Coffee Room
Farm Burger
Grindhouse Killer Burgers
Kelly's Market
LEON's Full Service
The Marlay
Mezcalito's Cantina
Mojo Pizza, Scout
The Square Pub
Steinbeck's Ale House
Sushi Avenue on the Square
Taiyo Ramen
Universal Joint
Visit www.mlkserviceproject.com for links to the restaurants and more information about the Project. For additional info, contact Lee Ann Harvey, Leeann.harvey@decaturga.com or 678-553-6548.