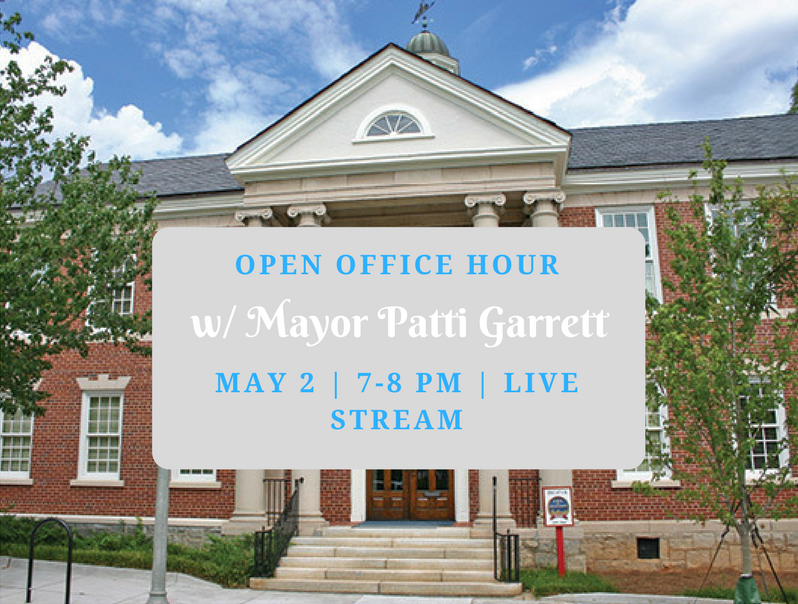 Wednesday, May 2, Decatur will host its first Open Office Hour of the year with Mayor Patti Garrett from 7 – 8 p.m. Mayor Garrett will speak for approximately 15-20 minutes on the topic of tensions between modes of transportation in the City, including the steps the City is taking to improve safety on our streets and sidewalks as well as how to move people, bikes and cars safely and efficiently through Decatur. She will also talk about how the City Commission and staff are addressing the tensions between transportation modes and working with other government agencies such as DeKalb County and the Georgia Department of Transportation.
The community is invited to tune in to watch and listen via livestream, http://www.decaturga.com/ci…/city-commission/streaming-video, and will be able and encouraged to submit questions related to the topic live (beginning at 7 p.m. on Wednesday) via the following channels:
1. https://www.facebook.com/decaturga/
2. @downtowndecatur
3. Openofficehour@decaturga.com
4. 678-553-6568
If you already have a question in mind related to this topic area, submit it here now –https://www.opentownhall.com/portals/49/Issue_6203. This question will close at 2 p.m. on Wednesday, May 2nd.
Social media links, e-mail address and phone number will be posted on Wednesday right before the meeting. Check this post for updates.