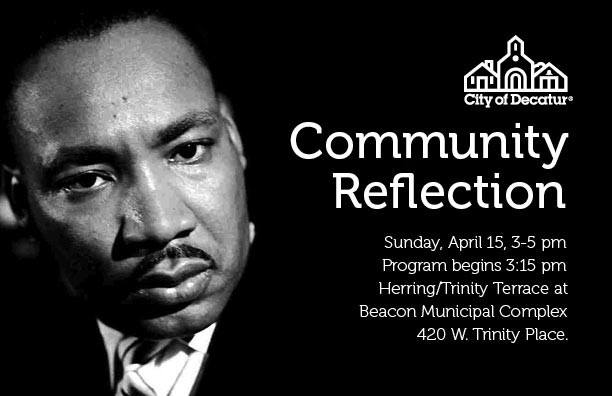 The City of Decatur and the Better Together Advisory Board invite you to a Community Reflection Sunday, April 15, 3-5 p.m. in the *Ebster Recreation Center- Gymnasium, 105 Electric Ave. The program begins 3:15 p.m.
April 4 marked the 50th anniversary of the assassination of Rev. Dr. Martin Luther King Jr. In the spirit of his vision and hope for humanity, the community is invited to join in a reflection on the past, recognition of the present,
and a conversation that will serve as an inspiration for the future of Decatur.
Music by the Sinfo-Nia Youth Orchestra. Cookies and lemonade will be served.
For more information, contact Renae Madison, renae.madison@decaturga.com or 678-553-6561.
*Please note, due to the threat of rain in Sunday's forecast, the location has been moved to Ebster Gym.