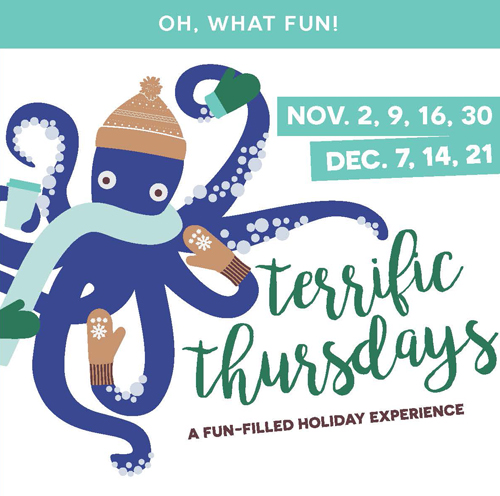 For all of you non-procrastinator holiday shoppers out there, this week kicks off Decatur's eight-week holiday shopping extravaganza. You'll get rewarded for getting your shopping done early and have a chance to get your hands on some free art. Here's what's in store for Decatur this season:
Terrific Thursdays – starts this week!
November 2, 9, 16, 20 & December 7, 14, 21
Enjoy Discounts, snacks, special in-store events, and extended hours at 25+ participating Decatur Businesses in November and December. For a complete list of participating businesses, click here.
Free Art Every Thursday
On each Terrific Thursday, 10 artsy octopi will be placed in participating shops around Decatur. If you find one, take a photo and post it on Instagram. it's yours! Tag yourself, the shop, @fishn and the artist (on the back of your new eight-legged friend). Use the #octopidecatur hashtag too.
Local Shopping Tips
Starting Monday, Nov. 6 check this blog, Instagram and Facebook each day for local gift ideas and to see who is keeping it "Indie-catur" this holiday season.
November Shopping Program
Nov. 1-30
Spend $200 in any city of Decatur shop in November (excludes restaurants and corporate chains) to receive a $20 local restaurant gift card. Bring your receipt(s) to the Visitors Center at 113 Clairemont Ave. or to the tent on the square during Small Business Saturday on Nov. 25 to claim your gift card(s). Limited to three gift cards per shopper. Promotion expires Nov. 30, 2017.