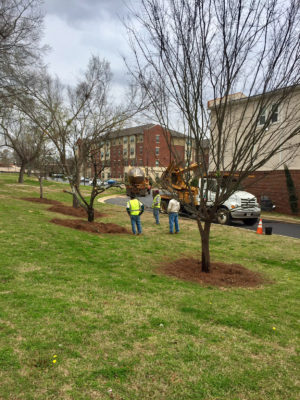 The Callaway site redevelopment plan — in particular the planned W. Trinity cycle track, together with the relocation of a major Georgia Power underground power line — will require the removal of existing street trees along W. Trinity Place.
Though an unfortunate requirement for the project to proceed, each tree lost will be replaced during redevelopment as part of tree plantings across the site.
Decatur's Tree Canopy Preservation Ordinance, which stabilized the city's overall canopy percentage at 45% and now fosters equal or greater coverage city-wide for the years ahead, requires developers to submit and abide by a full canopy replacement plan.
The impact
The work is scheduled to begin as early as Tuesday, March 14, and last a few days.
How to manage
There will be a lane closing on the eastbound side of W. Trinity Place between Commerce and McDonough but traffic will continue to be accommodated. Pedestrians should use the north side of the street. Bicyclists should take an alternate route.
Visit Decatur Extreme Makeover for updates and detailed information on this project.