Come out and support the City of Decatur Fire Department as we celebrate our first 100 Facebook likes on our new page! We will be showing our appreciation for the community and our commitment to fitness by having a "100 Push-ups for 100 Likes" mini event twice tomorrow, July 28, 2016. Please show your support by attending and/or doing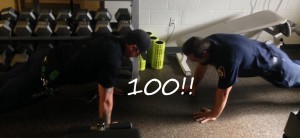 push-ups with us! The Fire Department will support you completing the 100 push-ups no matter how long it takes or how many sets it takes for you to get it done. Stop by station 1 (230 East Trinity place) tomorrow at one of the times below to show your support and celebrate fitness!
Please bring your family, and we will count mini-push-ups by your children as well! For more information, like us at facebook.com/decaturfireandrescue.
Celebration times:
10AM
7PM