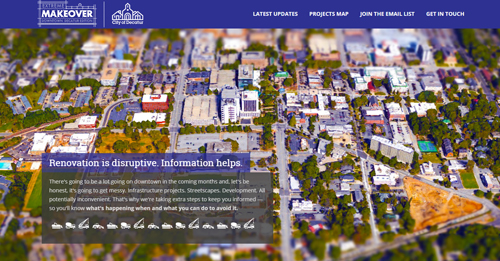 We've launched a new website and communications program — dubbed "Extreme Makeover: Downtown Decatur Edition" — to keep residents informed and moving throughout an upcoming period of potentially disruptive construction projects.
Between streetscape overhauls, infrastructure repair, safety enhancements, and development projects, there's a lot planned or in the works for the city's downtown over the next 12 to 18 months. And much of it involves overlapping timelines, which amplifies the potential for inconvenience.
The new site is intended to give residents the tools they need to plan ahead and work their way around any disruptions.
From now until the list of planned projects is complete, DecaturMakeover.com will serve as the hub of a larger program to keep residents informed — offering timely, ongoing status updates, email and social media alerts, and overviews in the city's Focus newsletter.
Included on the website:
Everyone is invited to visit the site and join the email list at www.decaturmakeover.com.