On May 15th, 2016, dispatch received a call regarding an unconscious male. Police Officers Jameson and Santiago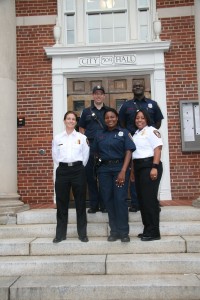 (below) arrived to find the man was unresponsive and not breathing  and immediately initiated CPR until Fire and Rescue units were on scene.
Rescue One and Air and Light crews staffed by
Fir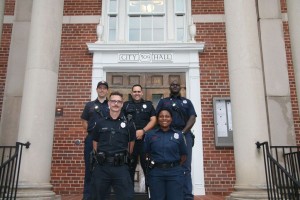 efighters Hutley, Brown, Keck (pictured with Fire Chief Washington and Fire Captain Violante) and Firefighter Curtis (not pictured) arrived to take over CPR and provided positive pressure ventilations with oxygen and a bag valve mask device. They continued resuscitation efforts until they were able to transfer care to AMR for transport to the hospital.
Because of their actions, the man began breathing by himself once again and regained a weak pulse.  Although none of these personnel would ask for recognition, we would like to congratulate them for their achievement. The City of Decatur Fire and Rescue and Police Departments are proud of their dedication to education, training and public service that allowed them to accomplish this life save.