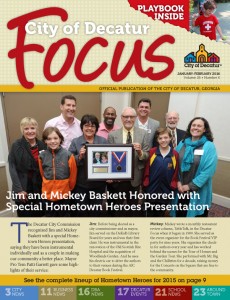 Interested in submitting information for the Decatur Focus?  The deadline for the June issue is quickly approaching.  Submit your stories and/or pictures (high quality, colorful photos are encouraged) by May 1, 2016 to Decatur Focus, P.O. Box 220, Decatur, GA 30031, 404-371-8386; or email decaturfocus@decaturga.com.
The Decatur Focus publishes announcements and information about the City of Decatur including city services, downtown development, school news, business news, and news about individual residents and neighborhood associations. The purpose of the newsletter is to promote the city and encourage the exchange of information among residents, business owners, and the school system. 
*Letters to the editor, editorials, or other opinion pieces are not published.  All press releases, announcements, and other information received for publication are subject to editing.