Whether you call them dispatchers, communications officers or 911 operators, the fact remains that police and fire personnel would be lost without them.  April 10-16, 2016 is National Public Safety Telecommunicators Week.  This week is not only a time for public safety personnel to drop by the 911 center and say thank you, but a time for everyone to take a minute to appreciate how complex of a job our communications officers have and the important role they play in keeping everyone safe.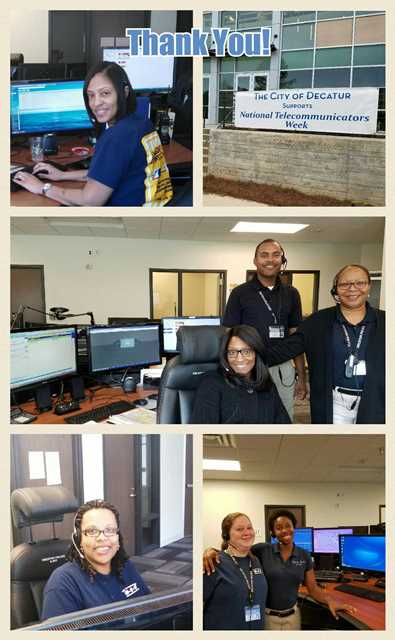 Decatur communications officers duties include answering 911 and non-emergency calls, dispatching police and fire to calls for service and monitoring their radio traffic for requests and issues, operating and monitoring the NCIC/GCIC database from everything to driver's license and warrant checks to stolen vehicles and all while assisting anyone that comes to the front window of the police department with a variety of questions or requests.
Our communications officers deal with the same stressors that the rest of public safety personnel deal with, but while tethered to a console.  They grow to know our voices by heart and are along for the ride whether we are rushing to a critical call or fighting a person, a fire or boredom during long winter night shifts.  They are behind the scenes, often invisible, but a lifeline to our community members, police officers and firefighters.  Please take a moment to send a quick note to jennifer.ross@decaturga.com to thank our communications officers this week.  We will be putting all of your responses together to share with all communications staff.