30 Days of Shopping in Decatur this November: Jump-start your holiday spirit – and your holiday shopping – with local daily tips in November on The Decatur Minute. Click here to see previous days.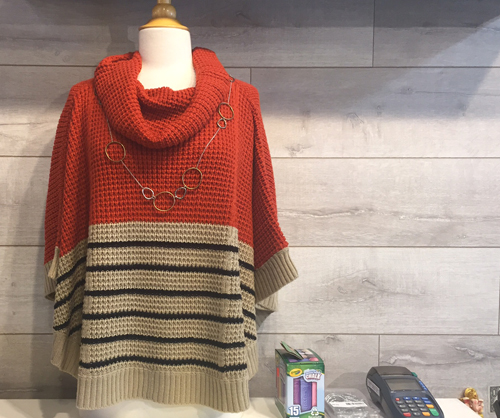 Have you recently thought, "If only I had the perfect winter sweater to go with my new subtly-ripped-at-the-knee jeans and vegan leather brown ankle boots…"? Well, look no further! Tres Jolie has this amazing sweater poncho (see photo above) that will complete your outfit. Sweaters not your thing? The shop has plenty of patterned tops and faux fur vests that are perfect for the season. Or if you're of the male persuasion, you can find affordable jewelry and scarves that will totally up your Secret Santa game at the office this year.
Tip: Get 20 percent off one non-sale item every Terrific Thursday.
Tres Jolie Boutique
727 Church St., Decatur, GA 30030
404-330-8733
Facebook