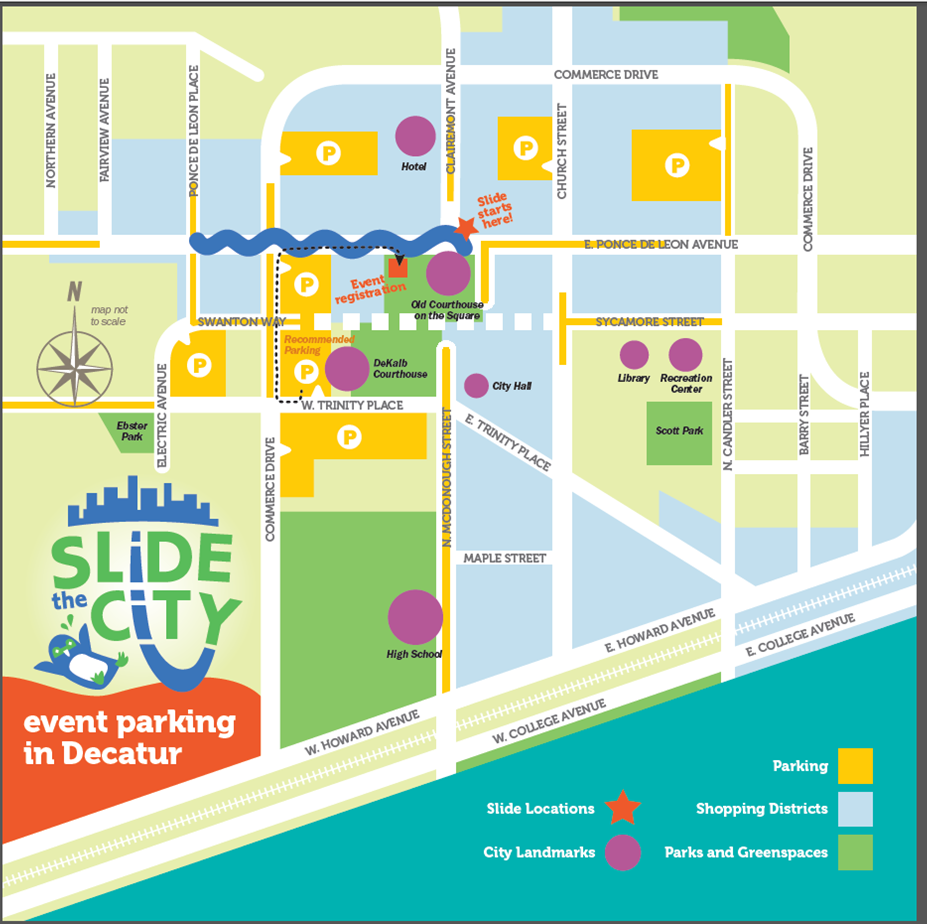 In celebration of the 30th anniversary of the Decatur Business Association, the DBA along with the City of Decatur has decided to shake up our traditional summer event, the Decatur Beach Party, and make a huge SPLASH this summer. For one day only, there will be a 1000 foot long water slide in the middle of W. Ponce de Leon Ave, stretching from Clairemont down to Ponce de Leon Place.
Here are some important details to note:
W. Ponce de Leon will be closed between Clairemont Ave and Fairview Ave at 3am on Saturday, July 25th until midnight that same day.
 Decatur Police will be present at road closures as well as roaming the event site
Hours of the event are 10am-9pm. We expect over 4000 people to attend this event
We have not allowed additonal vendors or foodtrucks to attend this event in the hopes that you, our local businesses will benefit greatly
There will be music along the Slide for most of the day. We will end the music at 8pm on Saturday evening
Police located at the barricade at W. Ponce and Fairview will allow local traffic inside the barricade if they are going to a business whose driveway is not blocked by the Slide
Police will also allow residents who reside in the 315 and 335 buildings to access their buildings
We encourage people to walk, ride bikes, to take Marta to Decatur. If you need to drive, please note the various parking decks on the map
Several of our favorite Decatur businesses will be hosting patio parties and specials on Saturday. Make plans now to hang out at Cafe Lily, T. Mac, and Ted's Montana Grill-all who have specials planned for the day!