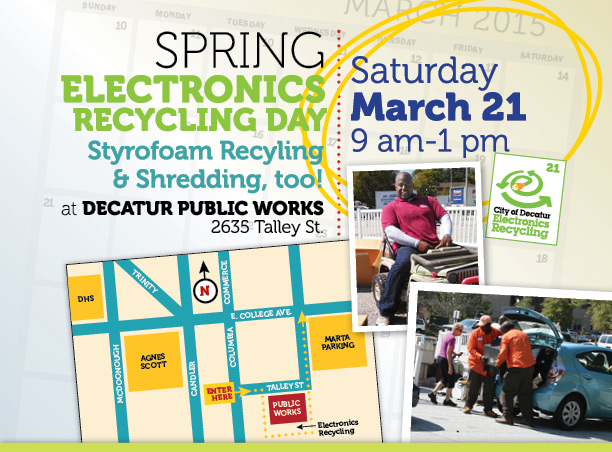 Don't forget!  This weekend you can recycle your old electronics and Styrofoam and safely shred and recycle your documents all in one place. It's simple and convenient. Just drop off your recyclables on Saturday, March 21 from 9 a.m. though 1 p.m. (Sorry, early drop-offs are not possible.)
Location: Decatur Public Works, 2635 Talley Street, Decatur, GA 30030.  Please enter from Columbia Drive.
Contact Sean Woodson at 404-377-5571 or sean.woodson@decaturga.com for more information and last-minute updates, or visit decaturga.com/electronicsrecycling.
Paper Shredding
This is a great opportunity to ensure that your important personal documents are disposed of properly. AAA Security Shredding provides secure on-site document shredding, and all shredded documents will be 100 percent recycled. Most document types are acceptable, including bills, invoices, correspondence, canceled checks, tax records, financial statements, purchase orders, and blueprints and maps.
These items cannot be shredded: Cardboard, glass, plastic, magazines, napkins, newspapers, paper cups and plates, plastic or spiral-bound notebooks, phonebooks, three-ring binders, and trash.
Styrofoam Recycling Tips
Make sure foam has the "6" symbol on it
Rinse and separate food service containers from other foam
No straws, lids, tape or stickers
No foam peanuts or insulation material
Electronics Recycling
Free Items:
Adding machines
Answering machines
Batteries, any kind
Cable converter boxes
Cables
Calculators
Component parts
Computer mouses
Computers
Copiers
Digital cameras
Digital projectors
DVD players
Electric lawn mowers
Fax machines
Garden equipment
GPS receivers
Game controllers
Keyboards
Label makers
Mini-towers
Monitors
Pagers
PDAs
Portable CD players
Portable game players
Printer cartridges
Printers
Radios
Remote controls
Routers
Scanners
Servers
Speakers
Stereo equipment
Telephones
Telephony equipment
3-in-1 devices
Typewriters
UPS units
VCRs
Workstations
Zip drives
Recycling fee for TVs: $10 (cash only – exact change required)