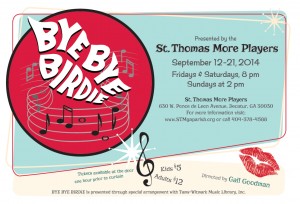 Watch as small town Sweet Apple, Ohio goes into an uproar when Elvis-like icon Conrad Birdie has a contest to kiss one girl in America before shipping off in the Army. Full of fun 50's rock and roll, several dozen hysterical teen girls, poodle skirts and saddle oxfords, a few New Yorkers, and a "greasy, bongo-playing heartthrob," this show will have kids tapping their feet and adults enjoying its nostalgic charm. You'll recognize some of the most famous songs in musical theater, including "Put On a Happy Face," and the lively "A Lot of Livin' to Do."
Second and third weekends in September, September 12-14, and 19-21, 2014
Fridays and Saturdays at 8:00 p.m.
Sunday matinees at 2:00 p.m. 
More information: http://www.stmgaparish.org/stewardship/parish-life/stm-theatre-ministry/
Directions: http://www.stmgaparish.org/about-stm/contact-us/
All performances at St Thomas More, Decatur, GA, in the Notre Dame de Namur Center behind the church.