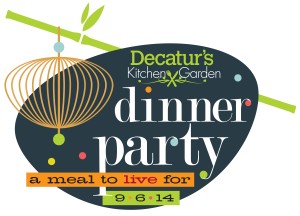 We've got a few tickets left for the Meal to Live For at Decatur Cemetery, but they are going fast!  Tickets are $125 each or reserve a full table for a party of 8 at $1,200.  All proceeds will benefit Decatur's Kitchen Garden – a Global Grower's project.
Participating Restaurants & Drink Sponsors: 
Brick Store Pub  |  Leon's Full Service  |  Kimball House  |  Steinbeck's Ale House  |  Cakes and Ale  |  Chai Pani  |  Farm Burger  |  Iberian Pig  |  No. 246  |  Pine Street Market  |  Sawicki's  |  Twain's Billiards and Tap  | Bluetarp  |  Three Taverns |  The Oakhurst Market
Here's a sneak peek at some of the exciting auction packages:
LOCAL HARVEST – Starting Bid: $900
One year Global Growers CSE
Full freezer's worth of Springer Mountain Farm's all natural chicken
Family Fun Day for 20 at a Global Growers Farm
TOAST OF THE TOWN – Starting Bid $750
Brew pub tour and catered lunch for eight with Three Taverns Brewery and Blue Tarp Brewery
Have a cocktail named after you for a month at Leon's Full Service!
BEST OF THE FEST IN DECATUR – Starting Bid $500
Tickets for four to Decatur's 2014 Craft Beer Festival , 2014 Wine Festival , & Beach Party.
One-hour VIP guided beer tour at Decatur's 2014 Craft Beer Festival
Private wine catalogue preview at Decatur Package Store prior to Decatur's 2014 Wine Festival
$75 gift certificate to Ted's Montana Grill in downtown Decatur
HOG HEAVEN – Starting Bid: $350
BBQ for 20 prepared and delivered by Hudson Rouse and the Home Grown team
Feast includes a whole hog from Riverview Farms and side dishes made with locally sourced ingredients
Get your tickets today!