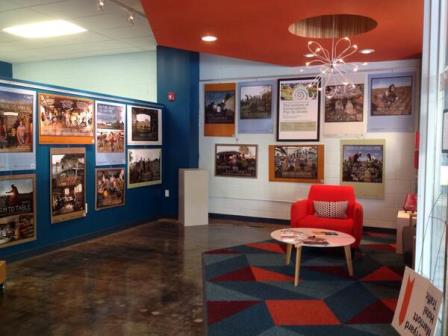 Spend the weekend checking out the Lexicon of Sustainability artwork (photo above) at the Decatur Visitors Center and on the walls at Leon's, Cakes & Ale, Chai Pani, and Farm Burger. Make sure to pick up a punch card at any of the five locations and the four participating restaurants will provide you with a weekly treat on Tuesdays in June.
Souper Jenny brings back its famous Lobster Rolls this Saturday for the rest of the summer (every Saturday). Also, the shop is also now carrying daily pressed juices from its sister store, Juicy Jenny.
The Pinewood is hosting its popular Alchemy Cocktail Class this Saturday at 4pm. Sign up here.
Join Decatur Active Living this Saturday at 10:30 a.m. for the kick off of the 2014 Summer Youth Baseball league at McKoy Park, 1006 Adams Street.
'Last Call' Closing Reception of the Decatur Arts Festival Fine Arts Exhibit is Sunday from 4 to 6 p.m. Selected artists will give a brief discussion about their works.