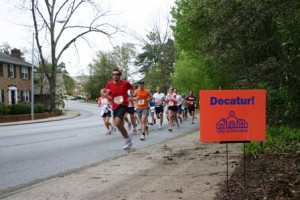 Do you love mornings and wake up early just looking for something to do?
We need two or three teams of folks willing to help us put up the "Burma Shave" signs along the Publix Marathon route through the City of Decatur. All you need is a vehicle large enough to hold some signs and a love of getting up at the crack of dawn. The marathon is Sunday, March 23rd and we start putting out signs at 5:30 a.m. We'll even buy you breakfast when we are done and we dedicate this Burma Shave Rhythm to you:
Morning people are very jolly
Even at 5:30 a.m. they're smiling by golly
Setting out signs before the sun's up
Is exactly the thing that makes them jump!
Decatur!
Want to pitch in and give us a hand? Call 404-371-8386 or email lyn.menne@decaturga.com