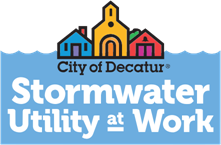 Astra Grading and Pipe will begin work during the  week of June 20 on Phase 2 of the Downtown Decatur Storm Drainage Improvements.  A plan of the new storm drainage system is included below.
As part of its efforts to eliminate flooding in and near downtown Decatur, the City of Decatur is making storm drainage improvements on East Trinity Place, East Howard Avenue, Barry Street and North Candler Street.  The project will start in front of Decatur Fire Station No. 1 and includes the replacement of undersized and deteriorated storm drainage facilities on East Trinity Place, Barry Street, North Candler Street and across private properties in the area.  All new storm drainage improvements will take place in City rights of way.
This project was originally planned almost 40 years ago and will reduce or eliminate frequent flooding on private properties on Barry Street, North Candler Street and East Howard Avenue. It completes the major planned improvements to the upper Peavine section of the downtown Decatur drainage system and replaces some of the oldest storm drainage infrastructure in metro Atlanta.
The work will be phased in 300 foot sections, with one lane closed while work is taking place in that section.  The work will start with location of utilities, saw cutting pavement and establishing a temporary construction office and storage area at 250 East Trinity Place.  Except when crossing intersections, two-way traffic and pedestrian access will generally be open during the entire job.  The work is expected to take 9 to 12 months.