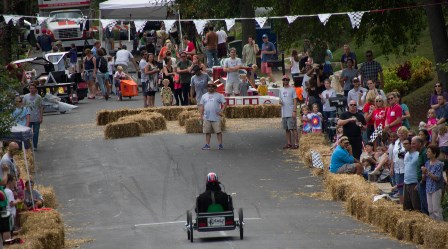 • Check out this episode of GPB's Two Way Street that features Decatur dining and Billy Allin of Cakes & Ale.
• Wahoo! Grill: Monthly wine event, Wednesday, Oct. 7, 5-7 p.m. Experience a Spanish influence with an evening of full bodied flavor and perfect pairing. Guests will sample each wine paired with tasting dishes from chef Scot E. Davis. Staff for dinner after the tasting and enjoy 20 percent off your bill. Reservations required: 404-373-3331.
• Big Peach Running: Decatur Friday Night Happy Hour, Oct. 9, 6:30 p.m. Dr. Lamar Frasier and Dr. Brittany Moore of Georgia Sports Physical Therapy will talk about the benefits of strength training, circuit training, and how to train for power.
• Madison Avenue Soap Box Derby: Saturday, Oct. 10, registration opens at 10:30 a.m. and judging starts at noon.
• Revival: Beginning Saturday, Oct. 10 at 11 a.m. the restaurant will start serving dinner all day every Saturday.
• Farmburger's Oktoberfest: Tuesday, Oct. 13, 7:30 p.m. $45 for four courses and beer pairing featuring brews from Creature Comforts. Call for reservations, 404-378-5077.