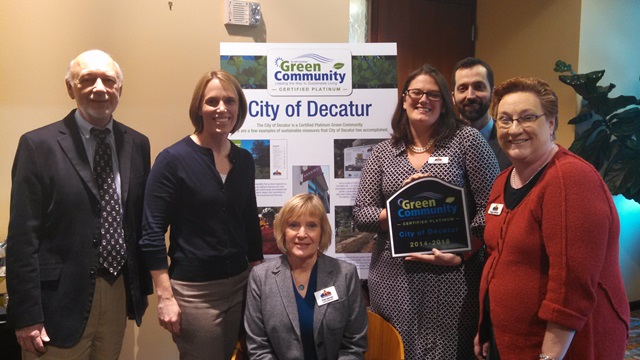 This week, the City of Decatur was one of seven local governments to be recognized by the Atlanta Regional Commission (ARC) for leadership in implementing policies and practices that contribute to efficient and sustainable use of resources in metro Atlanta.   The city became the first jurisdiction in the 10-county region to achieve Platinum level as a Certified Green Community, the highest certification level. Representatives from the city received its award at ARC's January board meeting.  ARC recognized the City of Decatur, along with two other cities – Alpharetta and Sandy Springs, and Cherokee, DeKalb, Fulton and Gwinnett counties, which either renewed or upgraded certification in ARC's five-year-old Green Communities program.
Commenting on Wednesday's presentation, ARC Chairman Kerry Armstrong said, "The seven local governments the Atlanta Regional Commission recognized today are working hard to use resources wisely and well, and I commend them for their achievements. Their efforts are contributing to cleaner air, reduced water demand, less waste going into landfills and more. As a result, we have a cleaner, greener region."
After first achieving Green Communities certification at the Bronze level in 2009, and upgrading to the Gold level in 2010, the City of Decatur has renewed its certification at the Platinum level this year, the first local government to reach the highest achievement possible. Some of the actions Decatur took to become certified include:
ARC developed the Green Communities Program to foster greater environmental stewardship and to recognize local governments that invest in programs leading to a more sustainable region. The nationally recognized program showcases the ways in which local governments are helping to transform the region by reducing their environmental footprint. Since 2009, 18 jurisdictions in the 10-county region have been certified. Cities and counties earn Green Communities certification by implementing practices and policies in 10 categories, ranging from energy efficiency and green building to transportation and water efficiency. ARC's Green Communities program was the first program in the country seeking to transform a region by promoting sustainability through a "green" certification program for local governments.
Complete information about ARC's Green Communities Certification Program, including the measures each community has implemented, is available on the agency's website.
The Atlanta Regional Commission is the official planning agency for the 10-county Atlanta Region, including Cherokee, Clayton, Cobb, DeKalb, Douglas, Fayette, Fulton, Gwinnett, Henry and Rockdale counties as well as the City of Atlanta and 69 other cities.  The Atlanta Regional Commission serves as a catalyst for regional progress by focusing leadership, attention and planning resources on key regional issues.