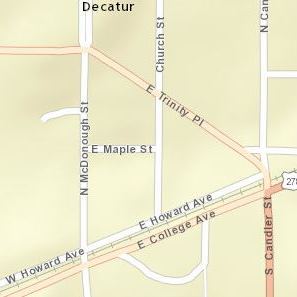 Road work and construction activity is planned for this weekend along East Trinity Place between College Avenue and  Church Street.  Traffic delays are likely in this area, so you may want to plan another route if you are traveling through Decatur.
If you have any questions or concerns, please contact the Design, Environment and Construction Division at 404-370-4104.
.
Trinity Triangle Construction Project, Saturday, December 13
Foundation work will be conducted between 6:30am – 5pm.
Additional weekend work is anticipated over the next 1-2 months.
Street Painting at Fire Station #1, Saturday & Sunday, December 13-14
The street in front of the station will be brightly painted to discourage vehicles from blocking the driveway used by emergency vehicles.
A single lane of traffic in each direction will be open throughout the work.