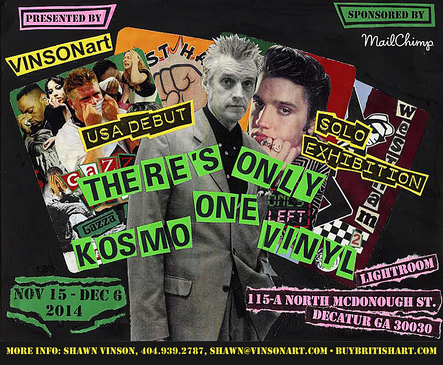 Who: Kosmo Vinyl
What: There's Only One Kosmo Vinyl, USA Debut, Solo Art Exhbition
When: Nov 15- Dec 6, 2014 (hours TBA)
Where: Lightroom, 115-A North McDonough St.
Website: www.buybritishart.com/kosmo-vinyl
Fresh on the heels of the Winston Churchill Paintings  exhibition at Atlanta's Millennium Gate Museum comes another art show and Georgia debut for an iconic and irreverent British icon, of sorts.
The Wall Street Journal called the Churchill exhibit "a bit of a coup, to put it mildly, for Georgia." Fans of The Clash and Ian Dury & the Blockheads may be right to add that the premiere of Kosmo Vinyl exhibition is also a coup for our state – not to mention City of Decatur.
Kosmo Vinyl is one of the key figures of the 70s British Punk scene, best know as the promoter/manager/mogul of The Clash and Ian Dury & the Blockheads. His pop art influenced collages with a punk aesthetic pay homage to his beloved West Ham United Football Club and the England National Team.