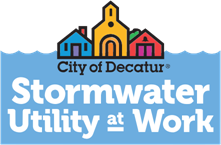 Three days of rain and President Obama's exciting visit to Decatur prevented the project contractor from making much progress on North McDonough Street in front of Decatur High School this week.  The contractor is aware that school back in session next week and is providing additional site protection while the sidewalk is restored.  Students will be able to walk on the Decatur High School side of the sidewalk during this period. Both marked crosswalks will be open as well.
The following construction activities are planned for next week:
-Set manholes, junction boxes and catch basins under sidewalk area.
-Backfill and replace sidewalk.
-Begin crossing North McDonough with one of the new storm drainage lines.
Traffic control measures will remain in place on North McDonough Street, so expect traffic delays.
For more information about the project, visit the City of Decatur website here.